Called Together Capital Campaign
Brentwood United Methodist Church is a healthy, vibrant church made up of believers whose vision is to create a culture of love formed through relationships with Christ and others.
Since our founding more than 170 years ago, we have been faithful to our mission as a local church and willing to take risks for the sake of that mission.
Today, we are faced with the challenge of aging facilities, outdated technology, inadequate acoustics in our Sanctuary, limited access to our Chapel, and the need for increased security for our facilities, particularly for the children. We are also faced with the challenges brought about by the COVID-19 pandemic and the opportunity to provide ministry in a hybrid way.
The oldest part of our facility, which serves our children and holds our Chapel, is now over 50 years old and is limiting our ministry to the Brentwood community, especially to children and families. Our Sanctuary is over 30 years old and in need of improvements in the ways of technology, accessibility, and acoustics to continue to provide meaningful worship experiences for people of all ages.
We must imagine a future that will enable us to strengthen our ministry to children, improve and increase the use of our worship spaces, and create a safer place for our congregation of all ages. It is time that we step out again in faith, to renovate, repurpose, and renew our current site in ways that accommodate our current ministry and position us well for ministry for decades to come.
We invite you to scroll through the page and learn more about our proposed renovation. Unable to find answer to your question? Please reach out to us at questions@bumc.net so we can connect with you and share more.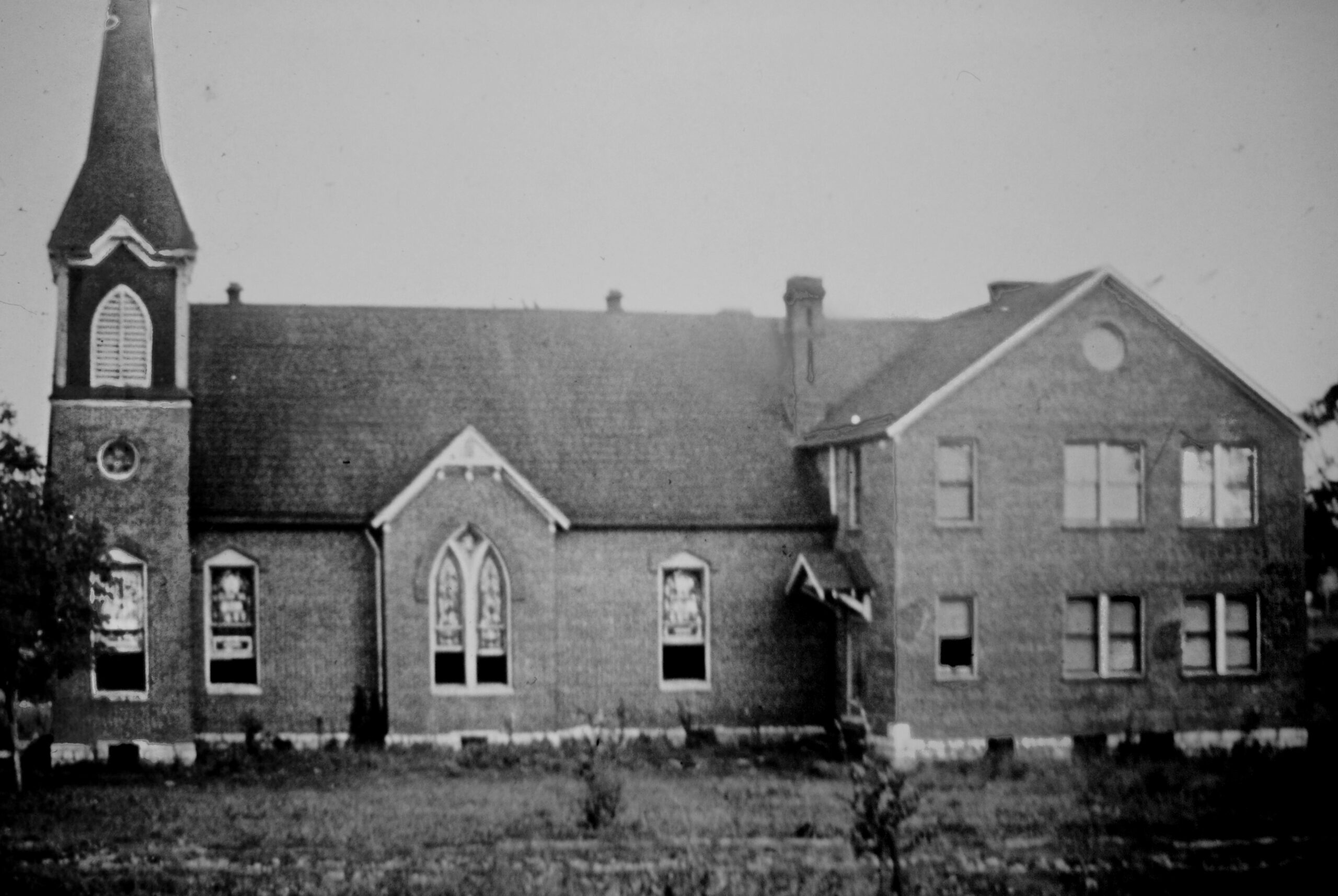 Brentwood Methodist Church on Church Street (1886)
1851

Brentwood Methodist Church is Founded

Methodists in the Brentwood community saw the need for a transformational congregation more than a century before the City of Brentwood was incorporated. The original church site sat on Frierson Street, where the Mt. Lebanon Missionary Baptist Church stands today.

1867

Brentwood Risk-Takers

Few records of Brentwood's earliest church remain. There is one rather dubious distinction that does exist. A resolution passed that men and women would be allowed to sit together. The resolution read: "Be it resolved that hereafter the gentlemen and ladies and especially all members of families of Brentwood Methodist Church be authorized and requested to sit together in the church for the better preservation of good order, quiet and convenience for the congregation." As such, Brentwood Methodist Church was the first congregation in the Tennessee Conference to allow men and women to sit together.

1886

The Move to Church Street

Brentwood Methodist Church was struck by a windstorm – or a tornado according to some sources – that completely destroyed the building. It was decided to build a new church at a new location on Church Street on property that had been previously donated by Mr. and Mrs. Hugh C. Moore, Sr. to the church for the purpose of building a new church, a parsonage, and a school. The new church was dedicated in 1886.
Our BUMC Kids programs and activities are housed in the oldest wing of our campus. Our Day School (part-time preschool) and Early Learning Center (full-time preschool) are also located in this part of the building. 
Our plan to renovate and repurpose this part of our building for Children's Ministry includes:
Repurposing the Family Life Center, allowing us to create large gathering spaces for preschool and elementary aged children, and additional classrooms for age-appropriate learning and activities, indoor play areas and specialty classrooms for therapy and music

Improving security throughout the Children's Ministry Area

Creating a secure, separate entrance for the ELC that also provides for Chapel access during the week

Renovating restrooms, kitchen and laundry area for our children's ministries and other uses
The Chapel is home to our weekly Modern Worship service, where it has grown over 40% from last year. Unfortunately, due to security concerns, the Chapel currently sits empty during the week. Renovation and expansion of the Chapel will provide a second state of the art facility on our campus for intimate worship experiences, concerts, and ministry-related seminars, and also make it possible to access the Chapel during the week.
Chapel renovations will include:
Aesthetic and acoustical upgrades

Redesign of the chancel area to create a larger, more flexible space

Updating the audio, video, lighting, and technical systems

Increasing seating capacity on the main floor by recapturing the space under the balcony

Providing flexible seating options, to accommodate a traditional worship service and other ministry events

Adding balcony access from within the Chapel

Enclosure of the Prayer Garden colonnade to provide a weather controlled connection of the Chapel to the other public areas of the church, while maintaining secured children's areas

Updating restrooms

Creating a larger, welcoming area at the Williamsburg Road entrance
Our Sanctuary, home to multiple weekly worship services, weddings, funerals, special seasonal worship and concerts, has outdated technology and is showing the wear and tear of 32 years. 
Sanctuary updates will include:
Aesthetic and acoustical upgrades

Electronic and

 

architectural enhancements to improve the quality of sound for both the spoken word and a full range of musical expressions from the organ, choir, soloist, orchestra, choral, and instrumental ensembles

Redesigned chancel area for more usable space and accessibility while improving the acoustical balance in the room

Sound lock vestibules on all levels to reduce noise levels and distractions from the Narthex into the Sanctuary

Mechanical changes including relocation of HVAC components, increasing air handling capacity, and soundproofing the organ blowers
We will allocate a small portion of the Capital Campaign proceeds to help Healing Housing purchase two houses for the ministry. As a congregation that is blessed with resources to renovate and renew our facilities for ministry, we believe it is important to share beyond our walls, and we want to share in blessing our ministry partner with appropriate facilities of their own.
Healing Housing, founded in 2017 by a group of women in our church, is an independent 501c3 and a Strategic Ministry Partner of BUMC. It is a residential recovery program serving women with limited resources throughout Middle Tennessee who are healing from addiction. In addition to providing a stable home, Healing Housing provides extensive support services to women transitioning from drug and alcohol treatment. Many individual BUMC members have been extraordinarily generous in supporting this ministry partner and comprise a large majority of the individual financial support. In addition, BUMC has provided in-kind support, and the BUMC Foundation has supported several programs for the women of Healing Housing over the years, in the amount of $298,842.22. Healing Housing has never received any direct financial assistance from the church's operating budget.
Healing Housing currently rents two homes in Franklin that offer round-the-clock housing and care for 16 residents, 2 senior peers, and 2 evening house managers. In addition, there is a small office space for the executive director and 3 other full-time employees. Healing Housing desires to purchase these homes due to the unpredictable and limiting nature of being a tenant. By owning the homes, Healing Housing will be able to provide more stability, potentially build equity, and take care of some major repairs and upgrades. Healing Housing has become a highly-respected institution in Franklin and the surrounding community and is the only nonprofit of its kind in Williamson County. More can be found about Healing Housing at healinghousing.org.
While we are putting time, attention, and money into our facilities now, we want to make sure we are financially positioned to maintain the space for the foreseeable future. Managed by our Board of Trustees, our goal is to have a balance of around $1,000,000 in our Capital Reserve Fund for ongoing maintenance and upgrades, to avoid hindering our operating ministry budget. We are proposing to include $1,000,000 in our Capital Campaign to replenish the Capital Reserve Fund.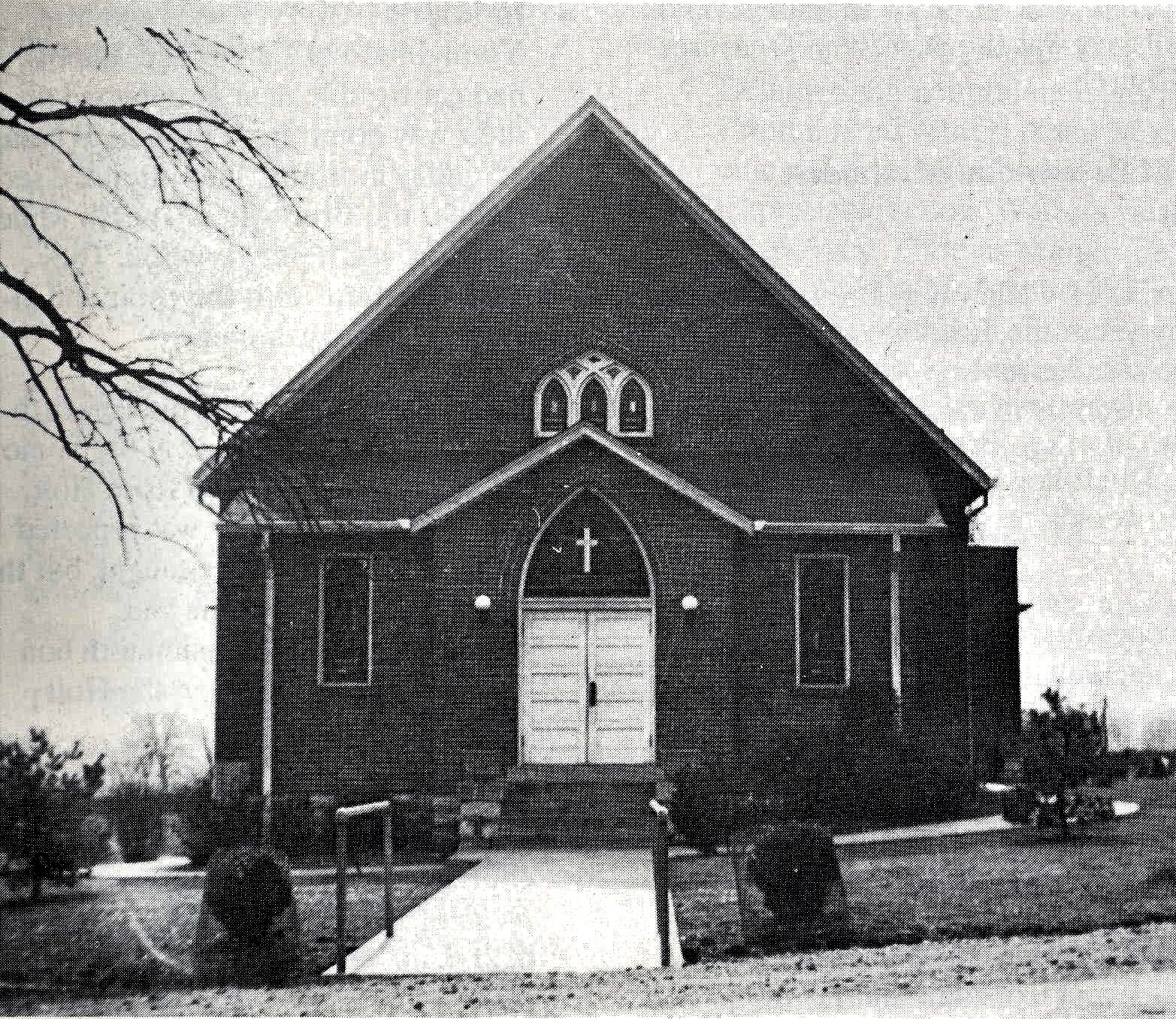 The new Brentwood Methodist Church (1939)
1936

Lightning Strikes Church Street

A lightning bolt struck the church located on Church Street, destroying it completely. The church members had to make a decision: let that be the end of Brentwood Methodist Church or rebuild despite the potential financial implications. They chose to take a risk and rebuild brick by brick.

1968

Moving to Franklin Road and a New Denomination

Church members were aware of the growing pains from cramped and aging facilities. Despite sentiment for the Church Street property, the congregation voted to take a risk to move to Franklin Road.

On the national level, the Methodist Church and the Evangelical United Brethren Church voted to merge denominations in April 1968. This gave birth to the United Methodist Church.

Brentwood United Methodist Church moved into its current facilities on the corner of Franklin Road and Williamsburg Road with the Chapel as its primary worship space.

BUMC experienced growth as the city and county around us grew. We made the decision to build a new primary worship space to accommodate the growing number of families worshiping and serving at BUMC. This is the Sanctuary we continue to use today.
Throughout our Called Together capital campaign series, eight prayer stations will be available on the main floor of the church. These interactive stations invite us to pray with intention for our church and the people, places, needs, and ministries to which we are all called. The stations are self-directed and allow you to participate in just one between worship services on a Sunday or come by during the week and slowly work through all eight.
We're also making our prayer station resources available online so you can pray for our church whether you're near or far.
We believe in the power of prayer.
That's why we want to invite you to further pray for our church by signing up to receive our weekly Prayer List in your email inbox.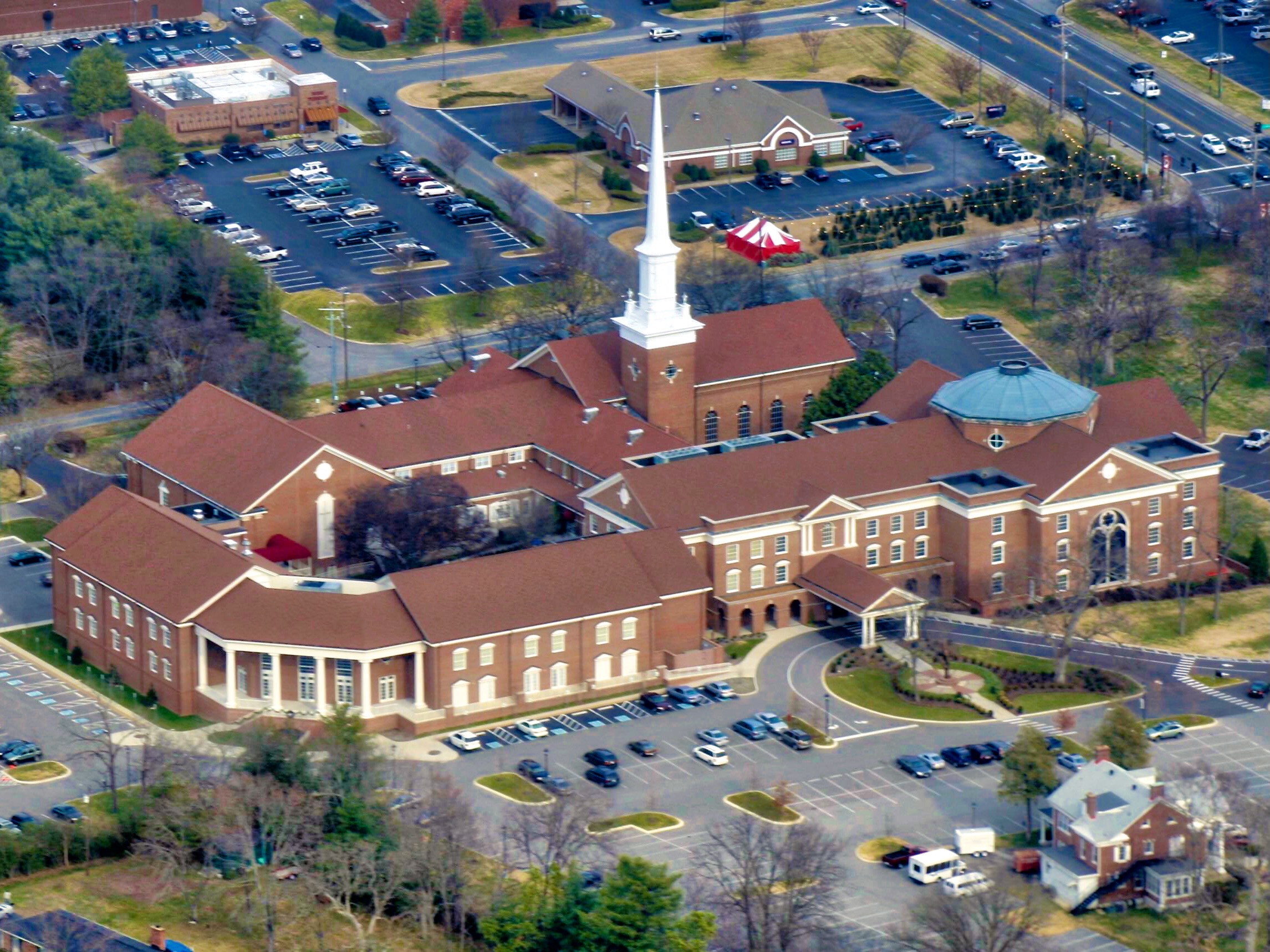 Brentwood United Methodist Church (2006)
2004

Maximizing Our Space

A decision was made to focus on our ministry to youth and adults with particular attention to a space that was welcoming to our middle and high school students, and the Turner Discipleship Center was built.

2015-2019

Looking to Future Growth

A full assessment of our facilities and ministry needs was conducted by our Board of Trustees and lay leaders. The Building Team was launched, and a Master Site Plan was developed. In fall of 2019, we began hosting informational meetings for the congregation.

2020

The COVID-19 Pandemic

A decision was made to pause the work due to the COVID-19 pandemic. BUMC quickly adapted to an online worship model, which has grown our reach on the national and international level.

Today

Repurposing and Renovation

Today, we are faced with the challenge of aging facilities, outdated technology, inadequate acoustics in our Sanctuary, limited access to our Chapel, and the need for increased security for our facilities, particularly for the children.

It is time that we step out again in faith, to renovate, repurpose, and renew our current site in ways that accommodate our current ministry and position us well for ministry for decades to come.
September 10
October 15
November 19
Spring 2024
MAKE YOUR PLEDGE
The Pledge Amount box is the amount you wish to give per frequency (i.e. weekly, monthly, annually)
Please review the Total Pledge amount above the contact section before clicking Create Pledge to ensure your total amount is accurate
You will receive a confirmation email once your pledge has been submitted
It's A Match! Every dollar pledged after $10 million will be matched dollar for dollar (up to $3 million). The progress bar below will show our current pledge total including matching funds.
Frequently Asked Questions
I plan to give by stock, RMD, or charitable trust. What do I do next?
Stock gifts can be processed through Merrill Lynch on behalf of BUMC. For more information, contact the Finance Department at finance@bumc.net or 615.324.8214. Any time you do a stock transfer, please notify the Finance Department of the type and number of shares so that we can properly credit your contribution account.

Required Minimum Distribution (RMD)

You can give your Required Minimum Distribution from a retirement account to take advantage of the tax benefit. Talk to your account's broker for more information. Make sure to alert the Finance Department at finance@bumc.net or 615.324.8214 if you have decided to give in this way.

You can give to the Called Together Capital Campaign through your charitable trust. Talk to your account's broker for more information. Make sure to alert the Finance Department at finance@bumc.net or 615.324.8214 if you have decided to give in this way.
Overview Questions
How is the church's leadership being included in the project design?

Leaders from the Children's Ministry, Early Learning Center, Adult Ministry, Worship & Arts, and Missions & Outreach have all been involved in the master planning and design process since the beginning and will continue to be consulted as plans progress. Our Building Team, led by church member Neal Hinson, is comprised of staff and laity providing a diverse demographic and ministry area representation.

How will changes in the denomination affect our plan?

We who call BUMC home have chosen to remain a spiritual family, working together for the mission of the church, and in Jesus' name, to continually transcend divisive issues for the greater good of the Kingdom. In choosing compatibility in love, we accept we may not hold the same perspective on all matters. Yet, we faithfully continue to grow in our faith together, holding each other in mutual respect, and focusing on the ties that bind us together in love through the Holy Spirit rather than those that divide. While we have no way of guaranteeing future attendance, studies show that few people today choose a church out of loyalty to a particular denomination. The most common reasons someone chooses a new church home are because of friendships and the vibrancy of the local church community.

BUMC is an excellent choice for someone looking for a vibrant new church home:

Since early 2022, we have seen a 50% increase in worship, children's, and student ministry participation

Our giving remains strong

We welcomed 197 new members in 2022

We have welcomed 59 new members so far in 2023

Our preschools are at capacity

Our missional engagement is as impactful as ever

What security measures are being included for the Children's Ministry Area and other areas of the church?

Security of our children is a top priority. The Children's Ministry Area, which includes our nursery, Day School, and Early Learning Center, is secure with no public access during school hours, on Sunday mornings, or when large events are held on our campus. The children's check-in area will be reconfigured during the upgrade to provide them with their own secure entrance.

Others measures we have in place include:

Routine assessments of the safety and security of our campus

Upgrades for some of our door locks

Exploring the best treatment of glass in doors and windows

Improving our electronic surveillance with added cameras

Implementing an automated alert system

We also have in place a thorough Safety & Security Plan for our campus, which includes procedures for emergency situations including medical, severe weather, fire, intruder or active shooter, missing child or adult, bomb threat, or a chemical or biological event. Additionally, our Children's Ministry, Day School, and Early Learning Center all have specific plans for the children and have regular training and drills.

How are we addressing accessibility and mobility concerns?

All new construction and renovations will be done in adherence with the Americans with Disabilities Act standards and guidelines. We are including ramps for access to the chancel areas in both the Sanctuary and Chapel.

What will be the impact on current ministries during construction?

We will work closely with our project team at T.W. Frierson on the construction and renovation schedule to minimize the disruption to our ministry. We are confident in their ability to help us make the most of our usable space during that time. Even with the best planning, the construction will require creativity and patience from our leaders, members, and students.

Specific disruptions may include:

Family Life Center Ministry events will be relocated or reimagined.

Children's Ministry activities, Day School, and Early Learning Center will be relocated to other areas of the building as needed. Children's safety is the highest priority. We will remain compliant with the state rules and regulations for early childhood education. The Day School and Early Learning Center will continue to operate at full capacity throughout construction.

A few adult classrooms may temporarily become shared space or moved off-site during construction.

During the Chapel renovation, worship services and other activities normally held in the Chapel will be conducted in the Sanctuary or other areas of the building.

During the Sanctuary renovations, worship services and other activities normally held in the Sanctuary will be conducted in the Chapel or off-campus. This will likely require the temporary addition of more weekend worship times. We anticipate being able to use the Sanctuary during Christmas 2023, Easter 2024, and Christmas 2024.

With the repurposing of the Family Life Center, where will large group events be held?

We can hold large events in Haney Hall, the Tabernacle, Sanctuary, Chapel, and the Gathering Space, depending on the type of event. As we evaluated the current facilities uses and the needs of our ministries, a priority for Children's Ministry began to emerge. 

In our assessment, we identified the following events that are regularly held in the Family Life Center:

Room In The Inn, usually once a week, November through March

Fundraising events for Harvest Hands, Healing Housing, and the Boy Scout Spaghetti Dinner

KidSale, a semi-annual consignment sale for children's items

We remain committed to these ministries and will work with the ministry leaders of these to explore ways to creatively accommodate these events in other spaces in the church.
Questions Regarding Healing Housing
Why are we helping Healing Housing? What about our other partners?

Healing Housing is presenting an urgent need that is critical to the ministry and its continuity. Through the years, we have supported our ministry partners in different ways as they have had needs. We have helped Harvest Hands with the purchase and renovation of their community center; we've assisted with purchasing a building in South Africa that is now the Thembelihle Primary School. We provide office and classroom space for the Center for Youth Ministry Training and the Center for Spiritual Life & Leadership on our campus at no charge, and we've assisted The Village in acquiring a loan to purchase their land and construct their building. 

What is the relationship between BUMC and Healing Housing?

Healing Housing is its own 501(c)3 entity and a Strategic Ministry Partner of BUMC. Our other Strategic Ministry Partners are the Center for Youth Ministry Training, Harvest Hands, South Africa Outreach (Brentwood Methodist Church South Africa, Angels' Care Centre, and Themblihle Primary School), the Center for Spiritual Life & Leadership, and our daughter church, The Village. It is a part of our DNA to develop, launch, and offer continuing support to ministries beyond the walls of BUMC.

What is the purchase price and maintenance cost of the homes?

Preliminary appraisals for the homes and the approximately 1.5 acres they reside on is $1.6M. Preliminary costs projections for maintenance on the homes is $400,000.

Who will own the houses once purchased?

The homes will be owned by Healing Housing.

Why isn't Healing Housing having their own capital campaign?

Being a ministry launched by BUMC just over 5 years ago, there is much overlap in the donor base for Healing Housing and the contributors to BUMC. We believe it is in the best interest of both organizations to not create a sense of competition but to partner from the beginning on a solution that is for the good of both. However, Healing Housing is developing strong relationships with other congregations in the area and with local businesses and donors beyond BUMC. In addition to the support BUMC can provide, they will be seeking additional support from other places.
Financial Questions
What is the process to determine if the church is ready for a capital campaign?

BUMC has contracted with Horizons Stewardship, who has helped thousands of United Methodist churches raise over nine billion dollars in capital funds. Horizons has developed an approach for BUMC that includes multiple check points at which church leadership can revise the timeline or the scope of the project. Key elements include: 

Pre-Campaign Phase:

Around 300 people made up of financial and ministry leaders have been invited to provide feedback on early versions of the plans to ensure the design teams are on the right path before moving further in our planning.

 

Feasibility Study:

The next step in the process is to review the results of a survey sent to financial and ministry leaders in the church to see if sufficient support exists within this group to introduce the plans to the church as currently envisioned. If there is, we will begin sharing our plans with the broader congregation, followed by a church-wide survey to determine the level of support among the rest of the church. The construction plans will then be adjusted to match the level of support of the church.

 

Church Council Approval of a Capital Campaign:

Horizons Stewardship will prepare and present a report of findings and recommendations to the Church Council, including financial projections for giving. The Church Council must authorize moving forward with the capital campaign and may at the same time choose to authorize further architectural design development to refine the cost projections.

Leadership Gift Development:

Prior to the launch of the church-wide campaign, the church will spend several months asking ministry and financial leaders to prayerfully consider making their financial commitment to the capital campaign in advance of the rest of the church. This process follows the model described in 1 Chronicles 29 and ensures that sufficient leadership commitments are secured before launching the public campaign. It also allows the church-wide campaign to launch with all the energy and excitement of hearing the commitment totals from their leaders.

 

Church-wide Phase:

The church-wide phase begins with the announcement of leadership commitments and ends with everyone in the church being asked to respond to God's leading prayerfully and faithfully in their lives for their financial commitment to the campaign.

 

How much does the church need to raise to move forward with all the current construction plans?

Our capital campaign consultants, Horizons Stewardship, recommend project costs be limited to the amount raised plus no more than one times the annual budget of the church. If the cost remains at $18,000,000, the church will need to raise $10,000,000 or greater to stay in line with their recommendation. 

The decision to move forward with construction will be determined by a Church Council vote, after approval by the District Committee on Building and Location, the capital commitments have been raised, final construction costs determined, and details of a financing plan are finalized.

If the church were to approve having debt after the end of the capital campaign, how would it be paid?

The reason Horizons Stewardship recommends limiting long-term debt to less than one times annual budget, or $7,000,000 for BUMC, is to give the church multiple options for addressing the debt. The most common option for churches like BUMC is to conduct a second capital campaign to eliminate the debt and fund additional capital needs. Other options include long-term financing or a debt retirement only campaign. 

How will construction financing be handled?

Typically, churches secure construction financing for the entire cost of the project and use campaign collections to delay draws on the construction loan. At the end of construction, the debt is placed in permanent financing and amortized over an agreed upon period. Campaign collections more than the required monthly payments are used to pay down principle, which saves interest expense.

Will the capital campaign impact giving to the annual ministry budget and special giving?

In almost every case, giving to the ministry budget of the church continues to grow during the capital campaign, although at a slower rate in the first year after the campaign. This is accomplished by repeatedly reminding households not to shift any existing giving away from the ministry budget to the campaign.

What percent of a capital campaign comes from the financial leaders in the church?

BUMC is like most churches and nonprofits in that a minority of the households fund most of the ministries. At BUMC, approximately 150 households fund around 50% of the ministry budget. For BUMC to reach $19,300,000 in campaign commitments, there will need to be several gifts of $1,000,000 or greater. These very large gifts have the effect of increasing the percentage of the capital campaign funded by these same 150 households to between 65-75% of the total amount raised.

How will the congregation be asked to give to the campaign?

Illustrations of the commitments needed will be provided to the congregation as a guide to their prayerful consideration of God's leading for their specific gift. Those who have been entrusted with much will be asked to consider a level of giving that represents God's blessing in their lives. Gratitude, prayer, and faith are our motivators, not guilt or coercion.

What are the pros and cons of a three-year commitment period versus a 5-year commitment period?

While some donors will make larger commitments if the giving period is extended beyond 3 years, most of the gain is offset by higher default rates and slower collections. Exceptions are often made for very large gifts when the donor requests a longer period to complete their giving.